EXHEAT Officially Launches the MTH Flameproof Mini Tank Heaters, a New Range of Compact Immersion Heaters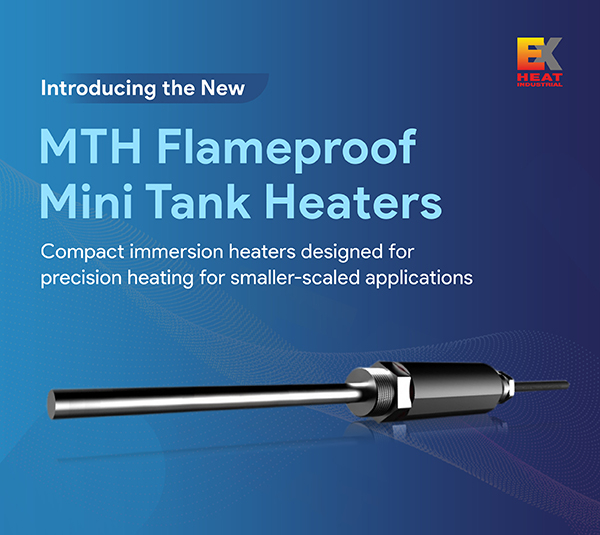 We are pleased to introduce EXHEAT's new range of MTH Flameproof Mini Tank Immersion Heaters, an ideal compact heating solution for liquids/gases in hazardous areas.
The MTH is a "plug-and-play" product that is designed to provide precision heating of smaller-scaled applications - for example: heating of oil within crank casings, motor enclosures, small oil tanks, and other similarly-sized applications where space is at a premium.
Engineered with convenience and safety in mind, the MTH comes with a thermocouple for excellent control over heating temperatures, and is tri-rated ATEX/IECEx/UK-CA to the latest UK Conformity Assessment.
Click here to find out more about the specifications of our MTH Flameproof Mini Tank Heaters. At EXHEAT, we always aim to offer the widest variety of products to meet the different needs of our customers.
Key Product Highlights
Certified to: ATEX / IECEx II 2 G D, Ex d IIC T6...T1 Gb, Ex tb IIIC T85°C...T450°C Db
'Plug and play' style heater, screws directly to tank or boss as required
Horizontal or vertical installation
Suitable for ambient temperatures from -40°C to +60°C (subject to certification parameters). Max ambient limit TBC
IP Rated: IP66/68
Different sized cartridge elements available
Standard range as well as fully bespoke options
Built-in thermometer IC for over-temperature protection
Typical Applications: Crank casings, motor enclosures, anti-condensation, frost protection, hot water storage tanks, cleaning and rinsing tanks and many more...